WELCOME TO KAMISAMA DOLLS WIKI
Welcome to the Kamisama Dolls!
A wiki dedicated to everything about the manga/anime series Kamisama Dolls, that anyone can edit.
Please help us by creating or editing any of our articles! We are currently editing over 21 articles since August 2012.
Careful: This wiki contains spoilers, read with caution!
Kamisama Dolls ((神様ドォルズ) is a manga by Hajime Yamamura. Kyouhei, after moving away to Tokyo from his old town to get away from the events that happened, is on a goukon with his friends, including his old neighbor, Shiba Hibino. After drinking for a whole night, he and Shiba discover a dead, bloody body in the elevator. He is told by his younger sister, Utao with her Kamisama Doll (Kukuri), that Aki, an old friend, and his Doll are the culprits responsible. |}
Featured Article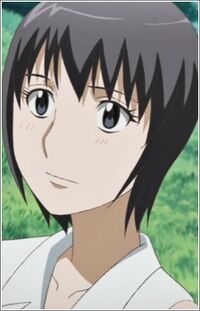 Chihaya was fired from the previous school that she was working because she slept with the father of her student. Seeing that no one would hire her in the city due to her reputation, she turned to the village. She saved Aki when he was being bullied by his step-brother. Afterwards she made Aki take care of the dog he was protecting. One day Aki's step brother asked her to be his boyfriend but she turned him down and slapped him. Later on her bad reputation spread accross the village. Read more