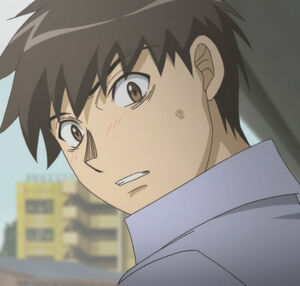 Kyohei Kuga (枸雅 匡平, Kuga Kyōhei?) age 20
Kyohei is the main protagonist and left his village and his duties as a "Seki" to live his own life in Tokyo. He was the partner of the doll Kukuri before it was entrusted to his younger sister, Utao.
He is said to be the strongest Seki due to the fact that he was able to use the power of Kukuri's left hand, which hasn't been done for a millenium. It is also stated by Aki that Kyohei stopped being a Seki because he himself, knew that he has something dark inside him, something that he cannot control, just like Aki.